LED Black Hexagon Pendant Light Office Hexagonal Ceiling Lights 500mm
$999.00

This led black hexagon pendant light office hexagonal ceiling light is widely used in offices, living rooms, classrooms, Gym, etc.
Brand: OPPNO Light
Manufacturer: OPPNO Lighting
Size: 500*500*80mm
CCT: 2500-6500k
Voltage: DC110-286v
CRI > 80
Wattage: 48W
Lumens: 5000lm
Certificate: CE/RoHS/UL/FCC
Warranty: 3 years
Black Hexagon Pendant Light Describe
Name
black hexagon pendant light
Diameter
400/500/600/800/1000mm
How to it works?
As more and more of the world's leading companies such as Google, Twitter and Linkedln adopt creative office spaces, people's requirements for office environments are getting higher and higher, and the demand for office lighting products is also more stringent.
In addition to the basic lighting function, these hexagon pendant lights have more decorative properties compared to other lighting products. Therefore, choosing a good office light is extremely important for office space design. The new pendant light"Zhi Soft", designed by the well-known brand OPPNO Lighting, is an example of high-end office and conference room lighting.
This hexagonal ceiling light uses high-end driver and led beads, has a modern appearance, bright lighting, each hexagon can be combined into different shapes, so that your work environment is no longer boring!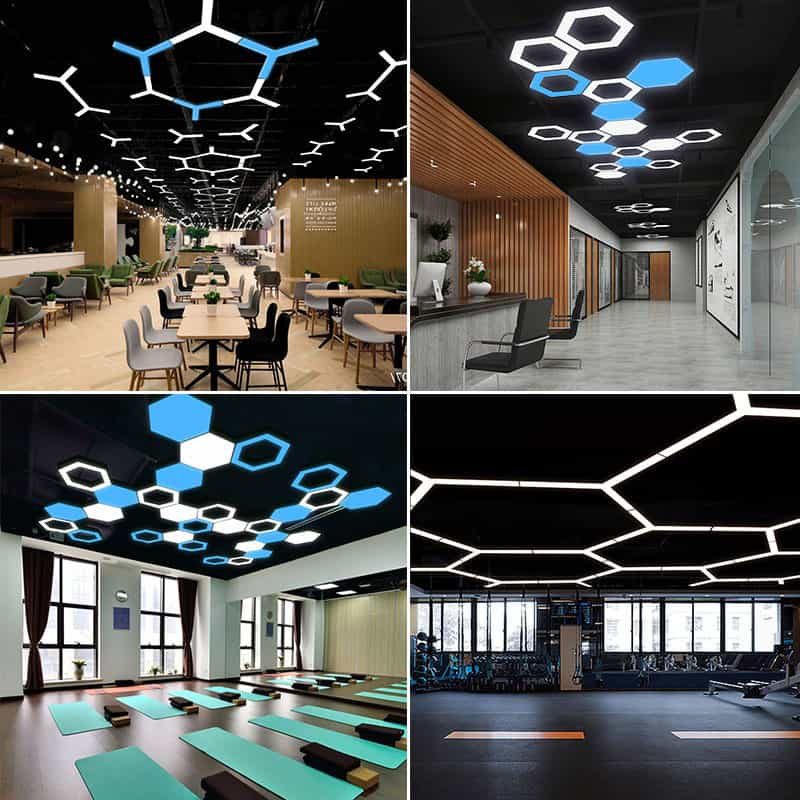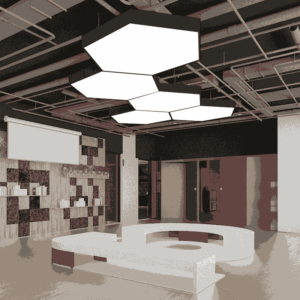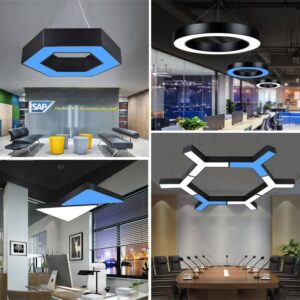 Q & A
There are no questions yet
An LED (light-emitting diode) is a semiconductor device that emits light when electricity passes through it. LEDs are commonly used in many household appliances, traffic signals, and even flashlights.
Incandescent bulbs have been around since the early 1900's. However, their efficiency was only about 20%, meaning that 80% of the power was wasted as heat. In comparison, LED lights are much more efficient. A typical LED bulb uses less than 10 watts of power, while incandescent bulbs use 100 watts or more.
The basic principle behind how an LED works is simple. An electric current flows through a wire filament inside the bulb. When electrons hit the filament, they release photons of light. By changing the color of the light emitted, different colors can be produced.
What are some advantages of using LED lights?
There are several reasons why people choose to use LED lights over traditional incandescent bulbs. First, they last longer. Incandescent bulbs burn out after approximately 1,000 hours, whereas LED bulbs can last up to 50,000 hours. Second, they consume less energy. Traditional bulbs require 100 watts of power, while LED bulbs need only 10 watts. Third, they cost less. Because they don't use nearly as much energy, LED bulbs cost significantly less than traditional bulbs. Fourth, they're safer. Unlike traditional bulbs, LED bulbs cannot explode or catch fire. Finally, they emit less heat. Because they generate less heat, LED bulbs won't get hot enough to cause burns if touched.
Where can I buy LED lights?
You can find LED lights at any lighting store. If you want to purchase online, OPPNO Lighting will be your best choice. You'll want to look for ones that are rated at least CRI 95. These ratings indicate how well the light produces white light. If the rating is lower, then the light may not produce the right amount of blue light.
Accept Payment:
Paypal | Credit Card | Bank Transfer | Western Union.
We will send out your led lights within 6 days after you arrange the payment.
Free Shipping, Ship by DHL/UPS/FedEx.
Products Reviews