Led Circle Light Modern Ceiling Light Surface Mounted Indoor Lighting 600mm
$299.00

Led circle light modern ceiling light Surface Mounted Indoor Lighting 600mm is a great office led light. It has been my go-to LED lighting solution for many projects. This particular model uses 48W LEDs and can be dimmed from 0% to 100%. It's perfect for offices, workshops, studios, etc.
Brand: OPPNOLight
Manufacturer: OPPNO Lighting
Size: D600*H80mm
CCT: 2500-6500k
Voltage: DC 110-220v
CRI > 80
Wattage: 48W
Lumens: 4320lm
Certificate: CE/RoHS/UL/FCC
Warranty: 3 years
Led Circle Light Modern Ceiling Light Describe
For more information about led circle light modern ceiling light Surface Mounted Indoor Lighting 600mm please contact us
Led Circle Light Modern Ceiling Light Features:
Square Light Body
This modern style pendant linear strip lighting is slim contour design, beautiful in appearance, new popular trends indoor lighting, kitchen, cabinet lighting. To prevent overheating, you should not place your bulbs too close to the ceiling.
Craftsmanship
1. Select high quality 6063 aluminum alloy profile, anodized on surface, good performance on anti-oxidation and anti-corrosion;
2. Translucent PC diffuser, filter out glare, makes the light softer and uniform, no glaring, no dazzling;
3. Using high quality 3825SMD, adopt with Zener stabilizer tube to make sure the long lifetime.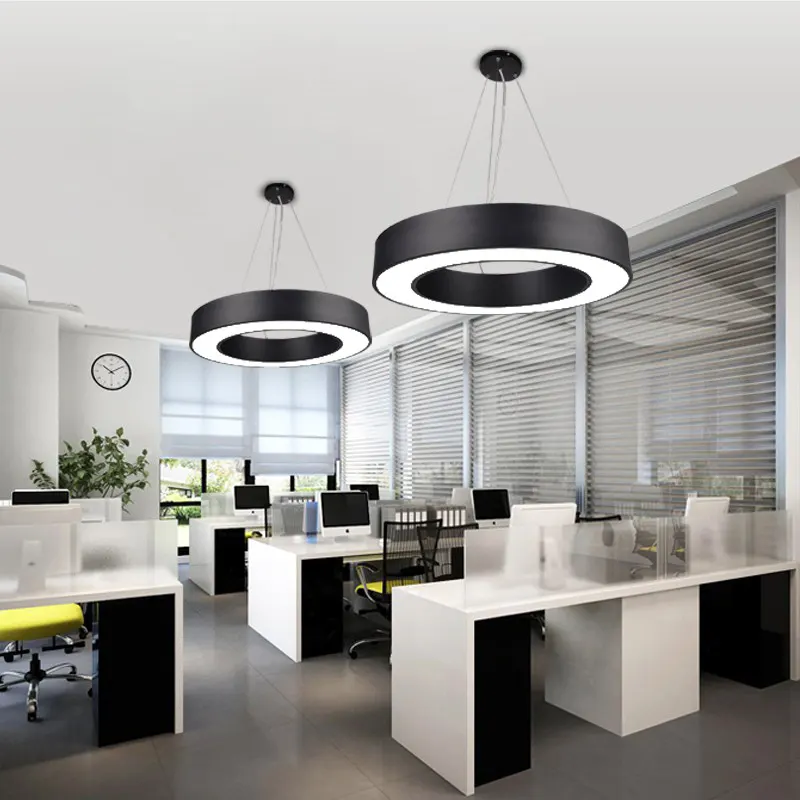 Q & A
There are no questions yet
An LED (light-emitting diode) is a semiconductor device that emits light when electricity passes through it. LEDs are commonly used in many household appliances, traffic signals, and even flashlights.
Incandescent bulbs have been around since the early 1900's. However, their efficiency was only about 20%, meaning that 80% of the power was wasted as heat. In comparison, LED lights are much more efficient. A typical LED bulb uses less than 10 watts of power, while incandescent bulbs use 100 watts or more.
The basic principle behind how an LED works is simple. An electric current flows through a wire filament inside the bulb. When electrons hit the filament, they release photons of light. By changing the color of the light emitted, different colors can be produced.
What are some advantages of using LED lights?
There are several reasons why people choose to use LED lights over traditional incandescent bulbs. First, they last longer. Incandescent bulbs burn out after approximately 1,000 hours, whereas LED bulbs can last up to 50,000 hours. Second, they consume less energy. Traditional bulbs require 100 watts of power, while LED bulbs need only 10 watts. Third, they cost less. Because they don't use nearly as much energy, LED bulbs cost significantly less than traditional bulbs. Fourth, they're safer. Unlike traditional bulbs, LED bulbs cannot explode or catch fire. Finally, they emit less heat. Because they generate less heat, LED bulbs won't get hot enough to cause burns if touched.
Where can I buy LED lights?
You can find LED lights at any lighting store. If you want to purchase online, OPPNO Lighting will be your best choice. You'll want to look for ones that are rated at least CRI 95. These ratings indicate how well the light produces white light. If the rating is lower, then the light may not produce the right amount of blue light.
Accept Payment:
Paypal | Credit Card | Bank Transfer | Western Union.
We will send out your led lights within 6 days after you arrange the payment.
Free Shipping, Ship by DHL/UPS/FedEx.
Products Reviews