40cm Dimming Night Light Smart Motion Sensor Cat Eye Stick On Recharge Led Lamp
$99.00

This dimming night light is widely used in wardrobes, washroom, Kitchen, car-trunk, corridor, closet and bedside.
Brand: AUCCE
Manufacturer: OPPNO Lighting
Size: 400*32*9mm
CCT: 2500-6500k
Voltage: DC 5v
CRI > 80
Wattage: 2W
Lumens: 170lm
Certificate: CE/RoHS/UL/FCC
Warranty: 3 years
Dimming Night Light Describe
Dimming lights Features:
Slim Light Body
This dimming night light is less than 10mm thickness, slimness contour design, beauty in appearance, new popular trends indoor lighting, kitchen, cabinet lighting.
Craftsmanship
1. Select high quality 6063 aluminum alloy profile, anodized on surface, good performance on anti-oxidation and anti-corrosion;
2. Translucent PC diffuser, filter out glare, makes the light softer and uniform, no glaring, no dazzling;
3. Using high quality 4014SMD, adopt with Zener stabilizer tube to make sure the long lifetime.
Motion Activated Indoor Using Cordless Light
Adopting with motion sensor and photosensitive sensor working in sync to realize automatically ON/OFF control, more intelligent and humane. Widely sensing detecting distance up to 3-5m,120°wide induction angle, make the induction more sensitive with no delay.
Large Capacity Lithium Battery
Rechargeable motion sensing wardrobe closet dimming stick on led lights, fast charging type-C port, more environmental and energy-saving, on auto mode, charging 1 time can constantly use more than 90days constantly working under motion mode.
Magnetic Adsorption
Built-in magnet, combined with powerful 3M adhesive tape which can be stuck and pasted in Kitchen scenes, such as cabinets, wardrobes, drawers, hallways, stairs, bathrooms, living room, corridor, bedsides; the design of magnetic base can be directly adsorbed on the metal iron surface; the light bar can be easily removed, And the compact size for easy to carry.No wiring, no tooling needs, make the installation with no trouble.
How to it works?
The dimming night light for Wardrobe Stairs Cupboard Counter Pantry can be sticked on Anywhere.
Built-in motion sensor and light sensor working in sync.
1. Doorways, corridors, stairs, lofts, darkrooms, basements, garages, cellars, caves, wardrobes, cabinets, cupboards, bookcases, hotel wardrobes, safes, tents, car luggage compartments, rear compartments.
2. USB charging is convenient, fast and safe.
3. The optimized inductive control design enables that the lights are on, when people come; and when people leave, the lights will automatically turn on/off.
4. Mini LED lights, super bright cabinet lights, humanized motion sensing.
5. The components are made of high quality and high precision materials. The induction is stable and reliable.
6. Light sensor, smartly capture the brightness.
7. motion sensor, intelligently detects the movements.
When human walks into effective sensing scope(3m/120degree), human movements be detected, automatically light on, no movement be detected, automatically turn off with 20s delay.
8. Effective sensing scope is 3-5m, 120 degree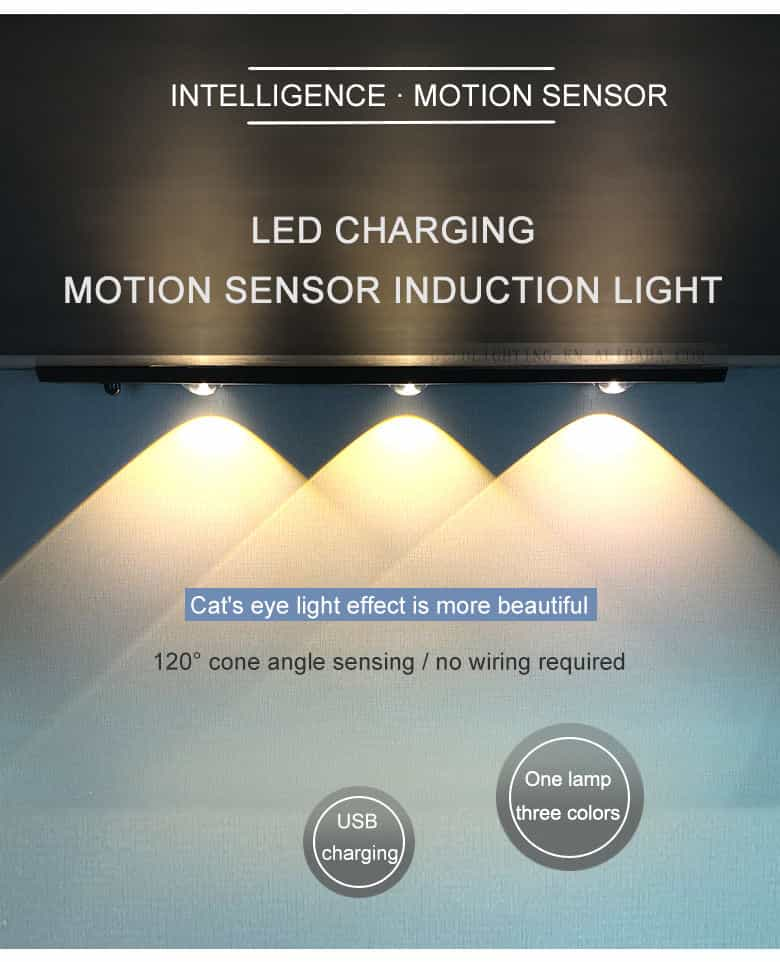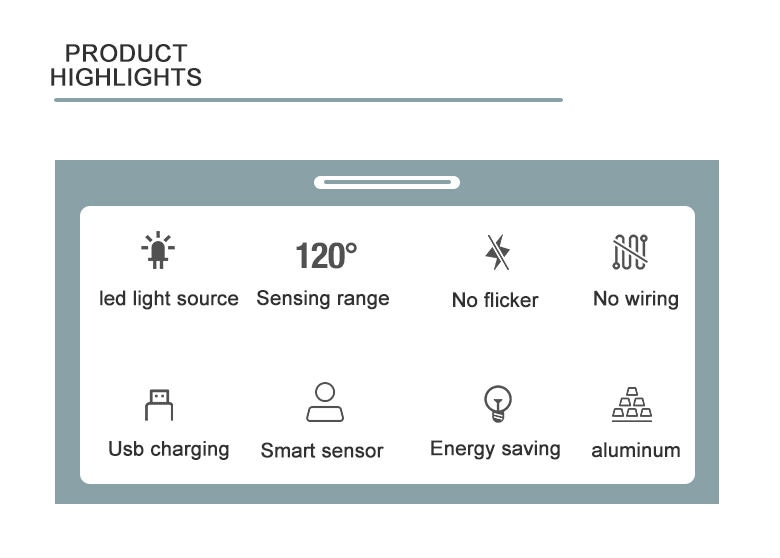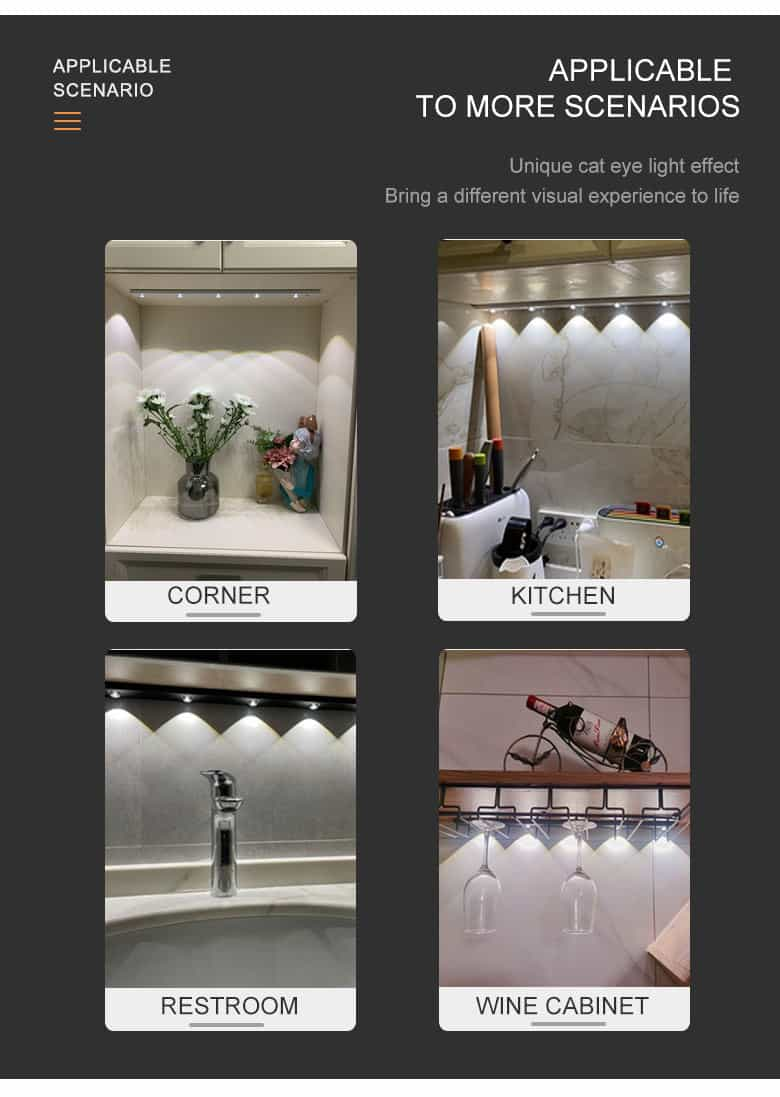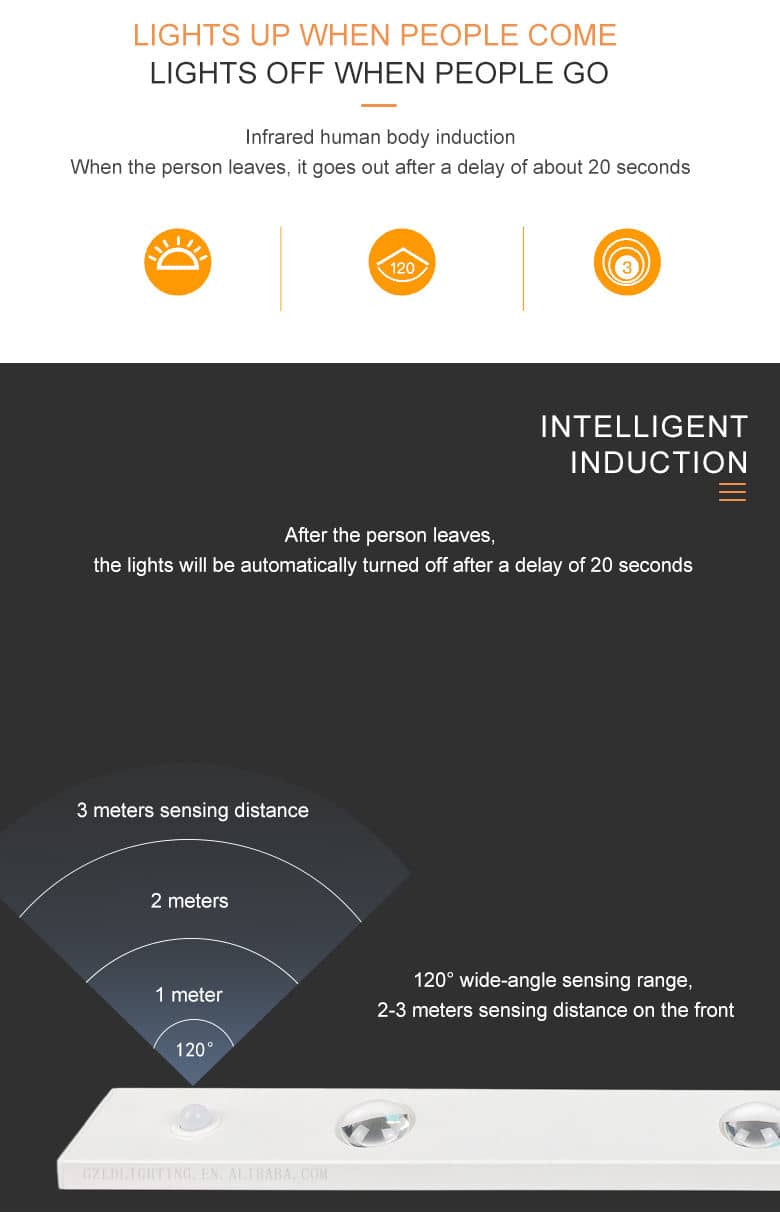 Q & A
There are no questions yet
An LED (light-emitting diode) is a semiconductor device that emits light when electricity passes through it. LEDs are commonly used in many household appliances, traffic signals, and even flashlights.
Incandescent bulbs have been around since the early 1900's. However, their efficiency was only about 20%, meaning that 80% of the power was wasted as heat. In comparison, LED lights are much more efficient. A typical LED bulb uses less than 10 watts of power, while incandescent bulbs use 100 watts or more.
The basic principle behind how an LED works is simple. An electric current flows through a wire filament inside the bulb. When electrons hit the filament, they release photons of light. By changing the color of the light emitted, different colors can be produced.
What are some advantages of using LED lights?
There are several reasons why people choose to use LED lights over traditional incandescent bulbs. First, they last longer. Incandescent bulbs burn out after approximately 1,000 hours, whereas LED bulbs can last up to 50,000 hours. Second, they consume less energy. Traditional bulbs require 100 watts of power, while LED bulbs need only 10 watts. Third, they cost less. Because they don't use nearly as much energy, LED bulbs cost significantly less than traditional bulbs. Fourth, they're safer. Unlike traditional bulbs, LED bulbs cannot explode or catch fire. Finally, they emit less heat. Because they generate less heat, LED bulbs won't get hot enough to cause burns if touched.
Where can I buy LED lights?
You can find LED lights at any lighting store. If you want to purchase online, OPPNO Lighting will be your best choice. You'll want to look for ones that are rated at least CRI 95. These ratings indicate how well the light produces white light. If the rating is lower, then the light may not produce the right amount of blue light.
Accept Payment:
Paypal | Credit Card | Bank Transfer | Western Union.
We will send out your led lights within 6 days after you arrange the payment.
Free Shipping, Ship by DHL/UPS/FedEx.
Products Reviews